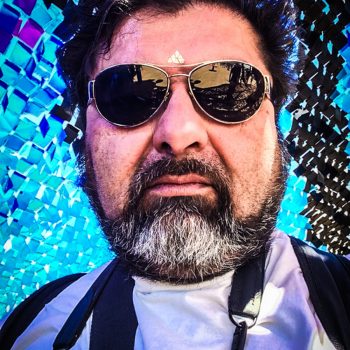 Rick Mendoza has been chronicling the downtown Los Angeles cultural melting pot through his photographs of its artists, entrepreneurs, partiers, and poets creating a unique urban portrait of the burgeoning small town in the heart of a big city.
His portraits and documentation has graced the pages of magazines like Artillery, Fabrik, Foam, Bedlam Magazine, and Citizen LA as, fotoboy62, photo editor and party hound. He has collaborated with Downtown LA writer Jim Marquez on numerous photo illustrations for articles and book covers for his salacious texts, and with international artist Lilli Muller on the Art Pink Warriors project documenting the positive lives of breast cancer survivors.
He trains his roaming photographic eye on subjects ranging form intimate portraits to urban landscapes to details of the natural world, all with a passionate sense of observation, and "eyeball kicks". His photographs have been exhibited in downtown LA at; The Salon at the Eastern Columbia, Gallery 1927 at the Fine Arts Building, Art Squared Gallery in Pershing Square, and Art Share LA.
2016-03-23